Hospice of Le Sueur Donates Funds to MVHC
June 19, 2015
Hospice of Le Sueur Advisory Board donates funds to MVHC
Posted: Friday, June 19, 2015 12:45 p, Le Sueur News Herald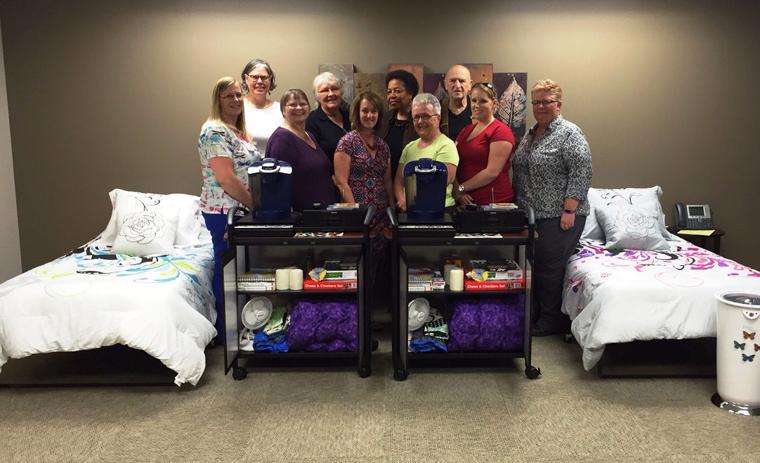 The Hospice of Le Sueur, Inc. Advisory Board donates funds to MVHC
Minnesota Valley Health Center was awarded funds from Hospice of Le Sueur, Inc. The donation was used to purchase items for two hospice carts and two roll away beds with bedding. (Submitted photo)
Minnesota Valley Health Center has been awarded funds from Hospice of Le Sueur. The donation was used to purchase items for two hospice carts and two roll away beds with bedding. The carts and beds will be available to hospice patients at the nursing home and their families, but will be kept at MVHC.
The Nursing Home at Minnesota Valley Health Center routinely has one to two residents on hospice at a time, and sometimes more.
The carts include items that are intended to make hospice residents and their families more comfortable in their rooms. The carts have items for all ages to keep families entertained while spending time with their loved ones. Some of the items on the carts include nightlights, personal fans, battery operated candles, coloring books, games, playing cards, weighted blankets, Keurig coffee machines, books, a stereo with an iPod dock and CD player, and CDs. The donated funds were also used to purchase the two roll away beds with bedding so the families can stay right in the room with the resident, and two electric towel/blanket warmers.
The Le Sueur Hospice Board is made up of 11 community members invested in making the end of life process as comfortable as possible for people in the Le Sueur community. They aim to raise awareness about the benefits and needs of hospice and palliative care, and provide funds to MVHC for items not covered by insurance, families or government programs.